Features for your media and business partners (partial list)
A clear rundown of your releases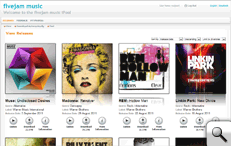 Share important information with your media and business partners around the clock.
The overview shows all the important information clearly and concisely for each release, such as the cover artwork, genre, label and release date.
Here, and with just one click, your recipients can instantly preview each release or easily download it as a zip file.
One click on a cover is all it takes for a details page to appear that contains additional information and actions for the selected release, including a description of the release, the catalog and article numbers, a detailed tracklist, external YouTube and Vimeo videos and much more.
All tracklists contain extensive data for each track, such as the title, length, file format, ISRC and tempo. To save you the effort of having to input this data by hand, iPool extracts most of this information "automagically" from your files, which saves you a lot of time and work as well.
Rapid download of media files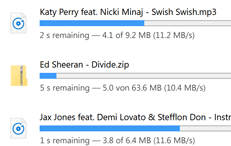 Give your media and business partners online access to your music titles, print-quality cover images, broadcast-ready video clips, booklets, press photos, biographies, PDF documents, DJ software files, and much more.
Thrill your recipients with breathtakingly fast download speeds: a whole album can be beamed through iPool in only a few seconds. Our measurements show how iPool achieves transfer rates of well over 10 MB per second.1 The thing that makes this kind of rapid transfer of your data possible anywhere in the world is our multiply redundant connections of an incredible 1.5 Terabit/s to all the major internet backbones.
In addition to current titles which you want to promote intensively, you can also make your entire back catalog available to licensees and download shops.
PDF info sheet for every release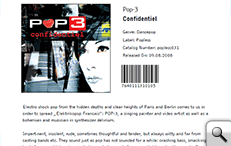 Your media and business partners can download an info sheet in PDF format for every release.
And the best part: You don't have to lift a finger, because iPool creates the PDF file for each release without any input from you necessary.
Automatic embedding of metadata in audio files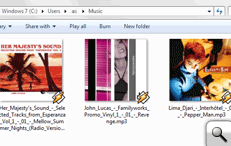 Make it easy for your recipients to organize their digital music libraries.
iPool fully automatically integrates all important metadata, including artist, title, cover image, genre and much more, into each MP3, AAC and Apple Lossless file.
This feature lets your recipients more quickly and conveniently organize and find your music in media players. In addition, your tracks will be depicted using the cover image in many media players, as well as in Windows Explorer and the macOS Finder. Another benefit: It saves you a lot of valuable time since you no longer have to manually integrate metadata.
Release meta data in XML format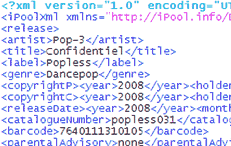 Make the meta data of your releases available in the iPool XML format.
This enables your recipients, such as music download shops, to process the meta data of your releases easily and automatically.
Instantly listen to music tracks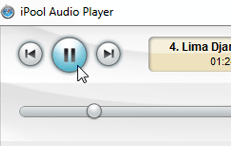 Provide your media and business partners with a first fast access to your music titles.
Based upon streaming technology, the preview function enables your recipients to listen to your music titles instantly, and they can even jump within the tracks. This saves time and bandwidth on your and also on the recipients' side.
Easily download releases as zip files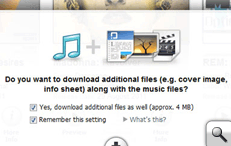 Your recipients can download individual media files or a complete release as a zip file in no time at all.
Ingenious: Your recipients are always free to choose whether the zip file contains just the music files or any additional files, such as cover images, band photos and the like.
iPool creates the zip file "on the fly" during the transmission, which is why the download starts immediately and the zip file uses no additional storage space in your iPool.
Automatic download via Podcast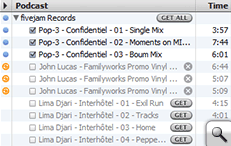 Provide your recipients with an even more comfortable access to your music titles.
In addition to download via the browser, your media and business partners can also access your music titles directly out of iTunes, Winamp and any other Podcast compatible software. The download can even take place automatically every hour – your music titles will quickly find their way to all your media partners.
Protected member area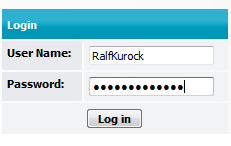 Protect your data from unauthorized access.
All your releases, media files and information can be made available to your media and business partners in a protected area, whereas each recipient will obtain an individual, unique login.
Show your music catalog to public users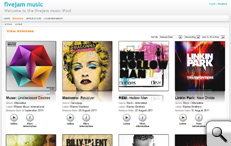 Give anyone quick and convenient access to your music – with no need to register or log in.
If you wish, you can let anyone, anywhere in the world browse through your catalog, preview your music, and get valuable information about your releases any time they like.
What's more, unregistered media and business partners can easily search your music catalog using a number of different criteria. This gives licensees and others fast access throughout your repertoire to the kinds of music titles they're trying to find.
You decide whether a particular release will be accessible to public users or only available to registered users in the protected member area.
You can also choose the features to which public users will have access. You might, for example, specify that public users may only preview releases, while registered users are allowed to both preview and download tracks.
1 With a correspondingly fast internet connection on the part of the recipient